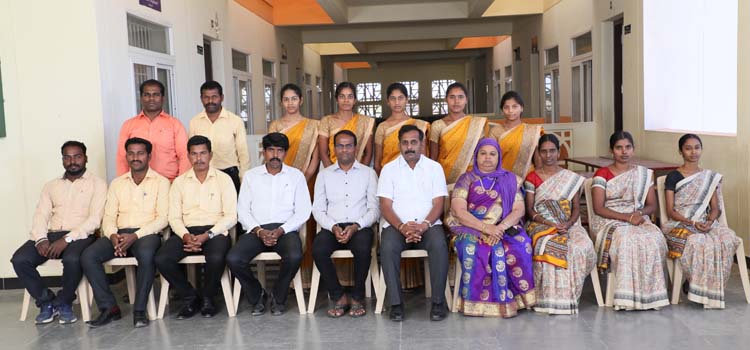 Department of Geography
          The department of Geography was established with the B.Sc., Degree Course in the year 2015. Three of our faculty members are experts in different fields of teaching and research. Our department students have won gold medals and a number of positions in university examinations conducted by Periyar University Salem-11, Tamilnadu, India.
Our laboratory in the department has been equipped with innovative tracing equipments and Arieal photographs and several toposheets. Till now our department has achieved 6 Gold medals and 42 University ranks in UG, Degree Programmes. Though the Department is operating within the limited infrastructure, the students of the department have been showing fantastic performances in various fields and aspects of the society. We have produced successful students from this department are working in various fields like teaching, civil services, young geographic representative.
OBJECTIVE
Our department focuses on developing an understanding of physical geographic process and the global distribution of landforms, and the role of the physical environment on human population.
It provides the students the ability to explain territorial diversity, complexity and the correlations of natural environment with economical, social and cultural phenomena's.
Our aim is the student practical knowledge is put to test with our laboratory and also with techniques like surveying and interpretation of toposheets.
The five themes of geography are location, place, region, movement and human environment interaction which are taught for intricate study on the earth's ever changing surface to able to explain and use it for the future job prospects.
Our goal is the students learn professionalism, including the ability to work in teams and apply basic ethical principles through the subject.
Our department vision is to promote employment opportunities for the students.
We give student an opportunity to hold technology related field opportunities like geo-informatics, cartography and meteorology.
We create a platform for students to get the detailed knowledge about the earth demographic structure and its unknown job, subject diversity prospects.
Our vision is to make students ready for competitive Exam.
Our mission is to provide a general idea about the Topographic and Surface characteristics of the earth to the students.
To make the students aware about the dynamic geomorphic processes responsible for the development of landforms of varied types and nature.
To improve the available scientific knowledge on landform development based on geomorphic concepts, principles and theories that to be applied to various job positions.
Our department another mission is the explanation of the geographic topics will help the students understand the fundamental concepts and apply them to fields like survey, project management and solve problems related to them.
ELIGIBILITY
           Candidates who have passed the Higher Secondary Examination of Tamilnadu Higher Secondary   Board      or an    examination    of     some       other    board accepted by the Syndicate as equivalent there to with Geography and Geology and any subject eligible for admission into B.Sc., Course in Geography and no mathematical knowledge is required.
PASS PERCENTAGE (2018-2023):
 

Year

 

B.Sc.,

2018-2019

100%

2019-2020

100%

2020-2021

100%

2021-2022

100%

2022-2023

100%
UNIVERSITY RANKS AND GOLD MEDALS (2015 To 2023)
UNIVERSITY GOLD MEDALISTS: 06
| | | | | |
| --- | --- | --- | --- | --- |
| S.No | Programme | Name of the Gold Medalists | Rank | Year |
| 1. | B.Sc., | Ms. T.RISHIKASHREE | 1st –Gold Medal | 2018 |
| 2. | B.Sc., | Ms. M.ROJAMATHI | 1st –Gold Medal | 2019 |
| 3. | B.Sc., | Ms. M.KALAIVANI | 1st –Gold Medal | 2020 |
| 4. | B.Sc., | Ms. M.MUNIYAMMAL | 1st –Gold Medal | 2021 |
| 5. | B.Sc., | Ms. J.SUBHASHINI | 1st –Gold Medal | 2022 |
| 6. | B.Sc., | Ms. C.JAMUNA | 1st –Gold Medal | 2023 |
UNIVERSITY RANK HOLDERS: 42
S. NO.

Course

Name

Rank

Year

1

B. Sc., Geography

Ms. C.INDIRA

II

2018

2

Ms. M.SINDHU

III

3

Ms. C.SARATHA

IV

4

Ms. M.ABIPRIYA

                 V

 

5

Ms. M.KALAIVANI 

VI

6

Ms. S.PRIYA

VII

7

Ms. B.VANITHA

VIII

8

Ms. V.SAMANTHI

IX

9

B. Sc., Geography

Ms. S.V.MADHIMITHRA

II

2019

 

10

Ms. M.KAVITHA

III

11

Ms. R.RAJALAKSHMI

IV

12

Ms. P.MEENAKSHI

                 V

 

13

Ms. S.ARPUTHAM

VI

14

B. Sc., Geography

Ms. V.VIDHYA

II

2020

15

Ms. E.SHANMUGAPRIYA

III

16

Ms. M.DEEPIKA

IV

17

Ms. V.KOKILAVANI

                 V

 

18

Ms. M.SADHIYA

VI

19

Ms. K.SOWNDHARYA

VII

20

Ms. M.SOWMIYA

VIII

21

Ms. S.SUMITHRA

IX

22

Ms. D.RITHIKASREE

X

23

  B. Sc., Geography

MS.M.MUNIYAMMAL

II

2021

24

MS.M.KOKILAVARDHINI

III

25

MS. D.GREETHA

IV

26

MS. S.KANIMOZHI

                 V

 

27

Ms. C.MONISHA

VI

28

Ms. G.RADHA

VII

29

Ms. G.P.SAKTHI CHATHURMITHA

VIII

30

Ms. M.SINDHU

IX

31

Ms. S.NARMATHA

X

32

  B. Sc., Geography

Ms. C.LOGESHWARI

II

2022

33

Ms. M.S.DIVYAPRIYA

III

34

Ms. S.SHALINI

IV

35

Ms. B.SATHYA

                 V

36

Ms. V.SATHYA

VI

37

Ms. S.DHANALAKSHMI

VII

38

Ms. M.BHARATHI

VIII

39

Ms. G.KOKILA

IX

40

Ms. S.ANITHA

X

41

  B. Sc., Geography

Ms. K.SATHYA

II

2023

42

Ms. M.NANDHINI

III
LIST OF FACULTY MEMBERS IN INSTITUTIONAL LEVEL COMMITTEES/
BOARD OF STUDIES/VARIOUS UNIVERSITY BODIES
S. No

Name of the faculty

Details of Membership & Activities

 

1

 

Dr.R.Vasanthi

 

1. Board of Studies Membership (UG & PG) – Periyar University

 

2. Theory Paper Valuation Examiner in Periyar University
List of essential equipments in the Department
Chain survey
Toposheets
Tracing Table
Satellite Image
Indian Clinometer
Abney level
Prismatic compass
Dumpy level
Opisometer
Facilities:
 

Facilities

 

Laboratories

 

Class Rooms

 

Seminar Hall

 

Computers

 

LCD/
Projector

Books  in Library

Journals in Library

Number

1

3

–

–

–

50

–