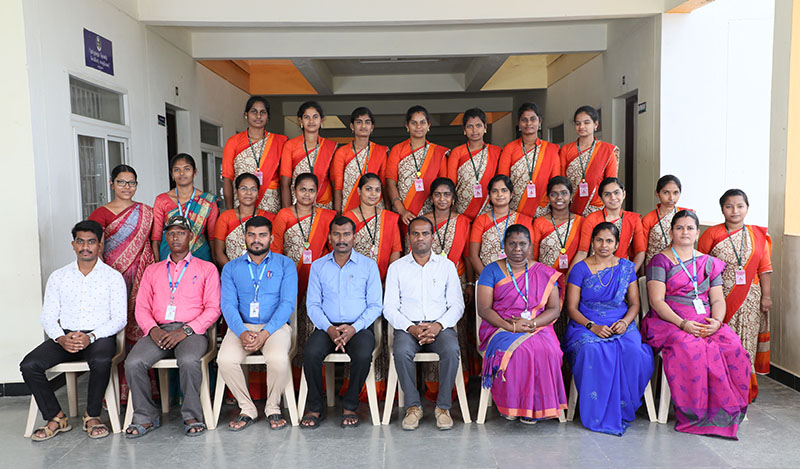 Department of English
This department was established in the year 2009. Department offers English to all the UG Courses as Part I, M.Phil/Ph.D from the year 2013.
To enable the learners to communicate in English effectively and appropriately in real life situation.
To help them use English effectively for academic and career purpose across the curriculum.
To motivate interest in understanding and appreciating English Literature
To encourage students to hone their four language skills i.e Listening, Speaking, Reading and Writing.
To inspire the students to undertake the research activities in English literary text.
To enable the students to acquire women empowerment through proficiency of English.
To empower the students of literature by stimulating and developing their imagination and critical thinking through teaching and research.
To transform the students into morally and ethically responsible citizens of the society.
Under Graduate Programme
To train the students in developing communication skills in English.
To strengthen their ability to understand all forms of English literature.
Post Graduate Programme
To enable students to develop a holistic understanding of literary text of English.
To introduce students the tools of research and broaden their critical thinking.
To equip them for further research activities and career opportunities.
Research Programme
To enable scholars to pursue advanced research techniques in English studies.
To sharpen their critical abilities to interpret and evaluate literary theories.
Under Graduate:
A pass in the Higher Secondary Examination of Tamil Nadu Higher Secondary Board or some other Board accepted by the Syndicate as equivalent thereto.
Post Graduate:
A candidate who has passed B.A. English or any other Bachelor degree examination of this university or any university recognized by the syndicated as equivalent thereto shall be permitted to appear and qualify for M.A. English (2 years course) will be given to students of B.A. English. Students from other Bachelor's degree must possess a minimum of 50% in part II English. Candidate shall be required to have obtained a minimum of 40% in UG degree course
Mr. S. KALIYAPPAN, M.A., B.Ed., M.Phil. SET.,
Head of the Department
Mr. M. SAMINATHAN, M.A. (ENG)., M.A. (HIS)., B.ED., M.Phil.
Assistant Professor
Mr. A. GNANASEKAR, M.A., B.Ed., M.Phil.
Assistant Professor
Mr. M. S. VIJAYAKUMAR, M.A., M.Ed., M.Phil.
Assistant Professor
Mr. M. SRINIVASAN, M.A., B.Ed., M.Phil.
Assistant Professor
Mr. K. CHINNASAMY, M.A., B.Ed., M.Phil.
Assistant Professor
Mr. M. SELVARAJ, M.A., B.Ed., M.Phil.
Assistant Professor
Mr. S. SANJEEVAN, M.A., B.Ed., M.Phil.
Assistant Professor
Mr. M. REVATHI, M.A., B.Ed.,
Assistant Professor
Mr. N. NARTHEEGAN, M.A., B.Ed., M.Phil.
Assistant Professor
Ms. M. BHUVANESHWARI, M.A., B.Ed., M.Phil. NET
Assistant Professor
Dr. D. SHANTHI, M.A., M.Phil., Ph.D.,
Assistant Professor
Mr. V. PRAKASH, M.A., B.Ed.,M.Phil.
Assistant Professor
Mr. M. MANI, M.A., B.Ed., M.Phil.
Assistant Professor
UG Intake                            180

PG Intake                              36

M.Phil Intake                         0

Ph.D. Intake                           0
SYLLABUS
UG             
Click here
PG             
Click here