Computer Lab
The college has established 2 computer laboratories with a total of 120 computers with a vision of providing ICT exposure to all students. Every workplace on the campus, including faculty rooms, offices, student residence rooms, computer labs, library and administrative office, has network connectivity.
The computing resources include advanced servers and powerful workstations. A state-of-the-art campus network with fiber optic backbone and a 15 Mbps Leased line Internet connection offer unlimited access of Internet for the students and staff round the clock, for their educational and research needs.
Round the clock access to computer lab.

Internet browsing and e-mail facilities are available.

Variety of software packages is available.

Each student has accompanied with an individual computer.

Wi-Fi facility is also available.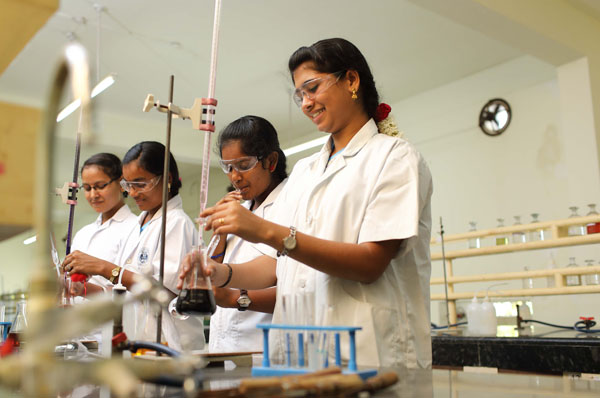 Chemistry Lab
Providing better practical knowledge to the students is the goal of our chemistry department's modern laboratories.
The laboratory of the Chemistry department is fully equipped with the latest laboratory equipment for conducting practical experiments and conducting research.
We have a well-equipped research lab with Double beam UV Spectrophotometer.
We have well-organized three major laboratories for undergraduate and postgraduate students, and facilities for allied students.
Some of the equipment are Electronic balance, Electric Burner, Hot Air Oven, Distillation Unit, Two bed Demineralizer, Potentiometer, Conductivity Meter, Photo Colorimeter, pH Meter, Suction pump, Centrifuge Machine, Electrical water bath, Shaker Machine, Melting apparatus, Heating mantle, Magnetic Stirrer with heating conditions, Exhaust fan, Hot Plate, Digital potentiometer, Digital conductivity meter etc…
Botany Lab
Our College Botany lab is well equipped for undergraduate and postgraduate students to perform various botany practical which are necessary for the study of the structure, properties, and biochemical processes of all forms of plant life, as well as plant classification, plant diseases, and the interactions of plants with their physical environment. The laboratory is spacious, well ventilated and are equipped with the necessary instruments such as Dissecting microscopes, compound microscopes, Binocular metallurgical microscope, UV vis spectrophotometer, colorimeter, centrifuge machine, heating mantle, air sampler, hygrometer, camera lucida, micro meter, haemocytometer, soxhlet apparatus, autoclave, microtome, respirometer, botanical charts and specimens.
Our Botany Laboratory has 100 preserved plant specimens for studying botanical names and identifying the particular plant in the field. Botany laboratory contains 10 experimental instruments to study the sectioning of Plants, centrifugal process and some physiological experiments like transpiration, Oxygen evolution, and Seed germination. The exclusive experiments are carried out by using equipments like Auxanometer, Ganong's Photometer, Kuhnes fermentation apparatus, clinical and ultra centrifuges, Shakers, Wiltman's light screen apparatus etc. Our Laboratory also possesses 50 types of economically important Medicinal Plant products. For the preparation and storage of Herbarium of common plants, a separate place is maintained. There is a Botanical Garden as additional assets to Botany Department.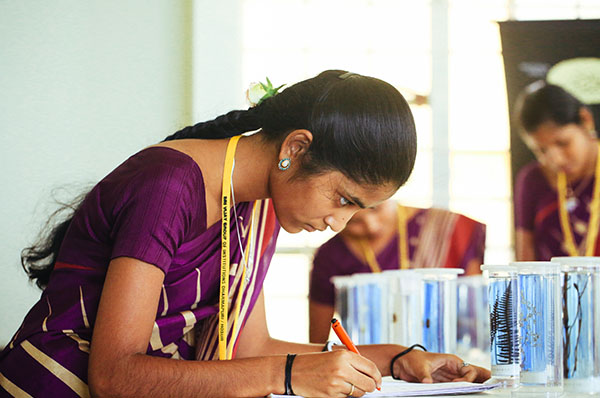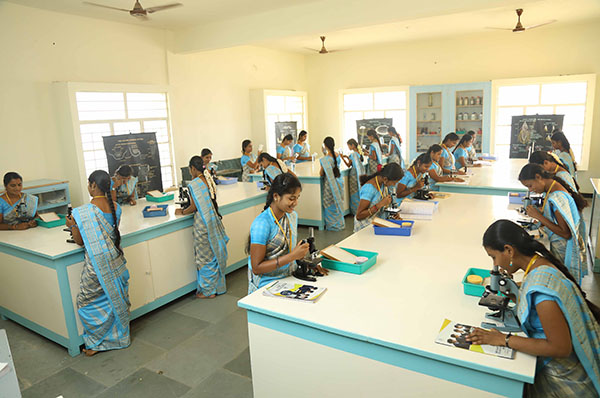 Zoology Lab
Zoology Lab was started on 2013 at Sri Vijay Vidyalaya College of Arts and Science, Nallampalli, Dharmapuri, which is provides scientific study of the animal kingdom, evolution, diversity and ecology.
Our Zoology lab is well equipped with all necessary facilities for higher studies. The equipments are based on the latest technology.
Practical work involves building knowledge of both the structure of special kinds of animals and how they function, and the complex relationships that govern how animals relate to each other and their surroundings.
Some important practicals covered during the session may be mentioned as Dissection of Animal, Permanent slide preparation, MLT & animal Taxonomy.
Study of pests, insects & plant, nematodes & edible fishes & parasites, counting of blood cells, study of ecosystem, Biodiversity, Cell biology, Entomology, Morphology of Insects, etc…
Our laboratory has a good arrangement of equipments like Specimen slides, Spotters, Compound Microscope, Dissection Microscope, Hemoglobin meter, Colorimeter, Haemocytometer, Centrifuge, incubator, etc…
Nutrition & Dietetics Lab
             Our  college  Nutrition & Dietetics lab is well equipped for undergraduate and postgraduate students to perform various Nutrition & Dietetics  practical's  which are necessary for the study of the structure, properties  of  nutrients and biochemical  process of disease  oriented. The college has a well equipped nutrition lab to provide practical knowledge of how to plan diet keeping in mind the patient needs and requirement. The students are taught to plan the menu scientifically, based on the calorific value of the food materials. There describe the relationship between nutrients and health in our college.
            Nutrition lab also provides information through various exhibits, diet charts and Nutritional status of an individual and a community is a significant determinant of the health status. The concepts covered in the nutrition theory course are explored in greater detail during the lab time using a variety of activities including normal and therapeutic food preparation, anthropometric measurement and nutrient analysis and enhanced problem sets.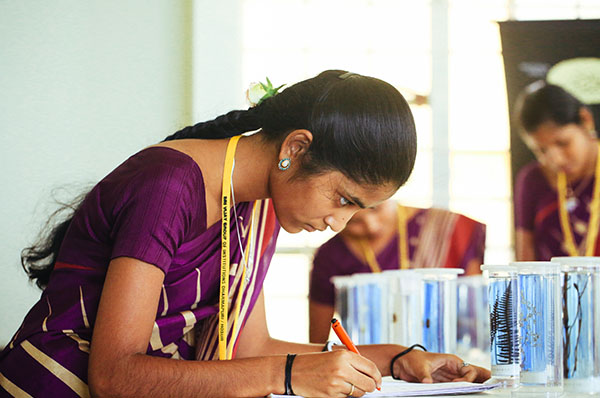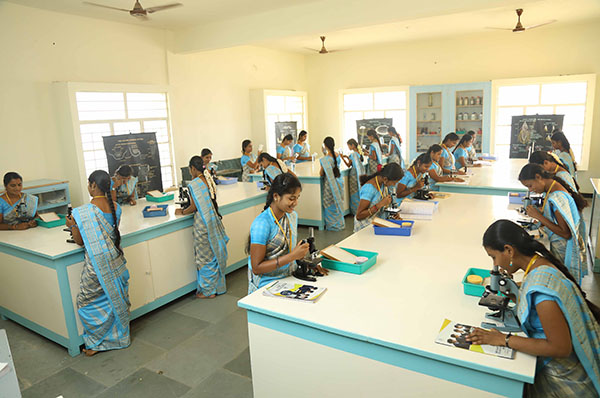 Geography Lab
The department established 1 laboratory with 4 tracing tables use to all students.
Cartography Techniques: Topo Sheet, Weather map, Aerial map and Satellite map.
Survey types and Instruments:
            Chain Survey – Chain, Tape, Ranging rod, Plane table survey, Prismatic campass, Survey with Indian Clinometer and abney level.
Microbiology Lab
The basic objectives of a microbiological research laboratory can be defined as follows:
Protection of the experimenter and staff.
Protection of the surrounding community.
Maintenance of experimental validity.
SEGREGATION OF AREAS
Clean and transition
Research area
Animal holding and research area
Laboratory support
Engineering support
Phillips and Runkle propose the primary-secondary barrier concept.
Laboratories need to develop techniques to manage areas of high microbial populations. Below are some points to consider in relation to maintaining a hygienic environment.
In designing a microbiology laboratory, it is important to keep in perspective the nature of the microorganisms, the potential sources of cross-contamination, the nature of the test materials, as well as the regulatory requirements in the industry. The generation and collection of data is key to ensuring product quality and ultimately patient safety.
See this recent article discussing pharmaceutical laboratory designand good manufacturing practices.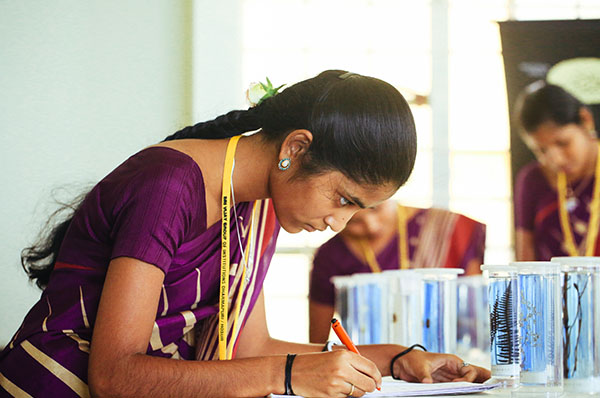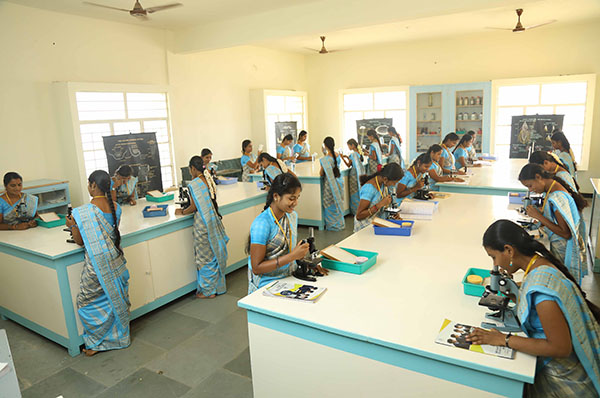 Textile & Fashion Designing Lab
The Department of Textile & Fashion Designing embraces labs with industrial equipment and tools to provide the technical know-how to the students.
Industrial machines like Single needle Juki Sewing machine, along with textile testing equipment required to analyses the properties of textiles and their applicability in developing different products.
As designer work involves use of different surface ornamentation technique therefore a separate lab with dyeing and printing tools is part of the department where students learn the concept and applicability of colours, mediums and embroidery techniques.
Pattern Making and Grading Lab
In this lab, the student learns how she can independently create patterns for different kinds of garments in common use.
It provides the students with hands-on experience while nurturing their creativity for fashion designing.
A bevy of beautiful mannequins and dress forms provide physical form and shape to the creations.
Garment Construction Lab
The garment construction skills of the student are developed and honed to industry standards in this lab.
The lab is equipped with the world's best brand of industry-grade stitching and special machinery.
The student is allotted extensive machine hours so that she develops confidence and expertise in the operation of all of the machines
Dyeing and Printing Lab
This lab provides the student with the skills of adding aesthetic value to textile material and develops her colour sense.
The equipments installed in the lab are the best available and cover the range of chemical finishing lab processes such as scouring, bleaching, dyeing, printing, etc.
The student is provided with hands-on practice in all of the chemical processes right from fibre identification up to textile finishing
Textile CAD and Fabric Structure Lab
This is where the student unleashes her creativity and innovation to entirety by utilising world-class apparel software like, Tukatech and so on.
Developing a flair for a variety of CAD software that are prevalent in industry enables the student to be 'job ready'.
Women's apparel and portfolio design
This lab is primarily designed to bring out the creative talents in the students and provide them with professional guidance to develop them.
It deals with the effective use of colour, form and material to match the latest trends in fashion. It also includes an exploration of the diverse and colourful costumes of India and other nations, and the application of add-ons to enhance appearance and design.